CTFO Vitamin C Skin Serum Review 2018
This article is about CTFO Vitamin C Skin Serum, where we will be looking at the  main features, the ingredients, the benefits, as well as the best place to purchase this powerful product to energize your skin.

What Is A Skin Serum
A skin serum is simply a liquid that can be used on the skin to further enrich and protect it from free radical damage and improve its elasticity by allowing the ingredients to firm the skin.
using this CTFO formula may be the only one you will need from here on out.
CTFO Vitamin C Skin Serum
Using a facial serum is nothing new in the beauty industry, but using this CTFO formula may be the only one you will need from here on out.
Although its sister product – CTFO Vitamin C Anti-Aging Serum – which uses 100% full spectrum pure Hemp CBD Oil in its formula, this formula does use some great ingredients to get the same wonderful results.
All the ingredients work synergistically to nourish and replenish your skin with consistent use.
The Main Features
This serum has a few great points:
Formulated with clinically supported ingredients: Sodium Ascorbyl Phosphate, Vitamin C, Stay-C-50
Formulated with anti-oxidants which help to slowdown skin damage
Reduces dry skin
Minimizes fine lines and wrinkles
Stimulates the production of collagen which in turn helps to reverse the aging process
Improves elasticity and firmness
As with any product, you will see more visible results with consistent use.
List Of Ingredients
For any product, it is important to know the ingredients that are used to make it. Here is a list of ingredients in this skin serum and they speak for themselves.
Ingredients:
Purified Water, Glycerin, Dimethyl, MEA, Lactic Acid, Acrylates/Steareth-20 Methacrylate Copolymer, Magnesium Ascorbyl Phosphate, Palmitoyl Oligopeptide, Palmitoyl Tripeptide-7, Aloe Vera Gel, Polysorbate 20, Silk Aminoacids, Imidazolidinyl Urea, EDTA, Tocopherol Acetate, Thyme Extract, Citric Acid, Chamomile (Matricaria Recutita) Extract, Passion Flower (Passiflora Incarnata) Extract, Hydrolyzed Silk Protein, Ascorbic Acid (Vitamin C).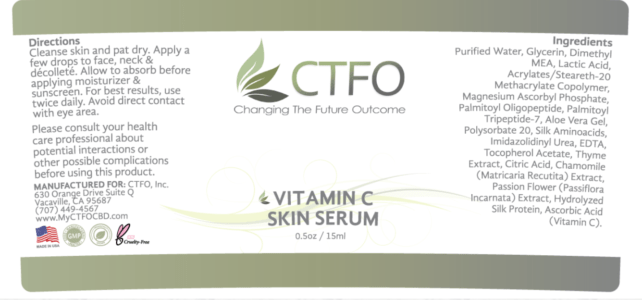 How To Use
As with any product, it is always recommended to start fresh, so cleansing the face is the first step. You can also check out the CTFO Daily Facial Cleanser review HERE.
Once you have cleansed your face, dry it from the excess water. Apply a few drop of the serum to your face, neck, and decollete. Let it absorb into the skin. You may also apply your moisturizer and a sunscreen if you wish.
Here is a link to the CTFO Moisturizing cream which I personally use and love, HERE.
It is suggested to apply twice daily – morning and evening for the best results.
The Benefits
In order to make the best decision before using any product, knowing the benefits is a good way to go. As a fore thought, remember that basic skin care is always a prerequisite to having the best skin and this involves a good nutritionally balanced dietary intake and skin care practices.
To read a bit more about other natural components to help you optimize your skin care, check out this article on Superfoods For Healthy Skin.
Here are the more obvious benefits from using this facial serum:
Slows the rate of skin damage
Promotes the production of collagen
Restores the firmness of the skin
Helps to increase the protective layer in the sunscreen and UV protection
Helps in reducing fine lines and wrinkles
Is a great antioxidant for the skin
Undoubtedly, I think these points should make you feel encouraged to try this skin serum formula.
And to make it even easier, this product comes with a 60-day 100% refund guarantee, so you have nothing to lose and great skin to gain.

You can also check out the CTFO Anti-Aging Serum which has CBD Oil in its formula.
Where To Find It
You may purchase CTFO Facial Toner online from the CTFO website HERE. You can also see a list of their other products HERE.
My Final Thoughts On CTFO Vitamin C Skin Serum Review 2018
Being a more mature woman, I am very careful about how I care my skin, and my whole body for that matter. No one wants to see the vestiges of age externally and if it can be camouflaged or prevented, this is definitely a good thing.
SO, I am more than in favor of using the best formula to enhance and protect my skin and this CTFO Vitamin C Skin Serum is one way that I can help my skin look and feel its best.
Give it a try and leave your feedback. All the best.
Images courtesy of Pixabay and CTFO.
---
I started using CTFO products as a customer and then decided to become an associate. The quality of the products and the structure of the company's associate program have clinched the deal for me. You can read more HERE and see if this business opportunity could be something for you, or HERE if being a customer is all you would rather be.
You can contact me HERE and I would be more than happy to get you started in the right direction.