Does CBD Oil Help Sleep?

This is certainly a great question! Everyone at some point or other will find themselves with sleep issues. Does CBD Oil help sleep issues? Well, let's take a closer look at CTFO Pure Hemp CBD Sleep Support Oral Spay.
What Is CTFO Pure Hemp CBD Sleep Support Oral Spray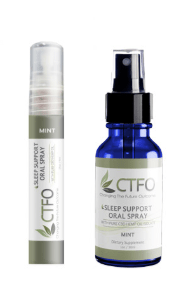 CTFO Pure Hemp CBD Sleep Support Oral Spray is another great product produced by CTFO. This sleep support spray is your one step closer to a restful night of uninterrupted sleep – the natural way. Let's take a closer look.
Everyone at some point or other will find themselves with #sleep issues.
Can Pure Hemp CBD Oil Help With Sleep Issues
Pure Hemp CBD Oil is what you get from the Hemp plant. It should not be confused with its cousin from the same family – Marijuana.
In as simple terms as I can use, Pure Hemp CBD Oil is what you get from the seeds of the Hemp plant while Marijuana is what you 'get' from the leaves of the plant.
It is simply amazing that one plant can be so bountiful with the properties that have been discovered.
It must be pointed out here also, that the pure CBD Hemp Oil does not contain THC which is the ingredient that gives that psychoactive high feeling. You can read more about both aspects of the Hemp plant HERE.
What Are The Benefits
Of course, using pure CBD Hemp Oil on its own, or along with any synergistic component, can only mean a recipe for better health.  This is supported by clinical studies that show the effectiveness of this product.
Let's look at the main ingredients used in this product's creation:
Melatonin
Valerian Root
CBD Hemp Oil
Melatonin
Melatonin is a natural recurring hormone that is released from the brain. It helps to promote restful sleep. As we age, along with the environmental effects of the impact of artificial light, this results in a reduction of melatonin produced by our bodies and ultimately makes us restless and more irritable due to lack of restful sleep.
Valerian Root
Valerian root is a wonderful plant that makes some great tea. It is known for being a relaxant. It is mostly used for sleep disorders as well as insomnia.It is also taken orally for anxiety and psychological stress. It seems to behave like a sedative and calms the brain and the nervous system.
CBD Hemp Oil
Here are the more prominent benefits:
Works quickly – this means faster relief because nutrients are quickly absorbed into your body
Promotes good sleep habits – helps to fight sleep insomnia
Healthy ingredients – CBD Oil, Melatonin, Valerian Root
Support optimal immune function
Helps with the regeneration of healthy cells
Promotes overall wellness and healthy outlook
Contains no THC
Comes with a 60-day refund policy (as do all the products made by CTFO)
And these are just a few benefits. So, in light of the ingredients and the effects/benefits, I would say that yes, when one asks the question – does CBD oil  help sleep issues – and also health issues at the very least.
Ingredients
Here is the list of ingredients:
Purified Water, Xylitol, Glycerin USP, Coconut Oil (MCT Oil Capric/Caprylic Tryglceride), Melatonin, 5-HTP (Griffonia Seed Extract), Valerian (Valeriana Officinalis) Root Extract, Gamma Aminobutyric Acid (GABA), Stevia Leaf Extract, Sunflower Lecithin, Xanthan Gum, Potassium Sorbate, Lauric Arginate, Natural Flavors.
How To Use
As with any product, you need to pay attention to the suggested usage. Read the label. And remember to use any medication with the advice of a medical counsel. Be aware of the 'warning' in the label as well.
The recommended dosage is 2 sprays under the tongue and this can be taken daily as desired. After you spray it under the tongue, let it sit for a few seconds before swallowing.
It comes in original/natural and mint flavor.
Where Can You Find It
You can find CTFO Pure Hemp CBD Sleep Support Oral Spray with pure CBD Hemp Oil at the CTFO online site, HERE.
So, if any one should ask – does CBD Oil help sleep issues – just give a thumbs up and introduce them to the product and a better night's rest as well!
Images courtesy of Pixabay and CTFO.
REFERENCES:
1/ WebMD
---
I started using CTFO products as a customer and then decided to become an associate. The quality of the products and the structure of the company's associate program have cinched the deal for me. You can read more HERE and see if this business opportunity could be something for you, or if being a customer is all you would rather be, then CLICK HERE.
You can contact me HERE and I would be more than happy to get you started in the right direction.