CTFO Daily Facial Cleanser Review 2018
This article is a CTFO Daily Facial Cleanser Review and will look at the main features, the ingredients, the benefits, and where you can purchase this wonderful product to pamper your skin.

What Is A Facial Cleanser
In as simple words as I can say, a cleanser, whether it is for the face or any other part of the body, is a product that is used to rid the skin surface of any dirt and grime, as well as excess oil production to leave your skin feeling (and looking) fresh and clean.
CTFO Pure Hemp CBD Daily Facial Cleanser
This is a cleanser which is created to be gentle on your skin even while removing the dirt and grime that comes with everyday living.
This is a cleanser which is created to be gentle on your skin even while removing the dirt and grime that comes with everyday living.
The main features:
Light-weight
Penetrates deep into the skin's pores
Replenishes the skin with natural extracts and CBD Oil
Does not contain detergents that produces suds and slip
Made with cream-type emulsion agents to be gentler on the skin
Formulated with 14mg of pure CBD Oil
List Of Ingredients
One thing I have learned in checking the labels of the products I buy, is that the first 5 ingredients are usually the most important. As you will see, the goodness goes way beyond the first 5 which is a great sign. Let's look at the ingredients used in this product formula.
Ingredients:
Purified Water, Octyl Palmitate, Glycerin, Persea Gratissima (Avocado) Oil, Glyceryl Stearate, Peg-100 Stearate, Aloe Barbadensis Leaf Extract, Cyclomethicone, PCR Hemp Oil, Carbopol, Hamamelis Virginiana (Witch Hazel), Mentha Piperita (Peppermint) Oil, Peg-16 Macademia Glycerides, Octyldocenol, Propylene Glycol, Zea Mays (Corn) Oil, Tocopheryl Acetate, Cholecalcoiferol, Retinyl Palmitate, Ascorbic Acid, Pyridoxine HCI, Silicate, Sodium Propoxyhydroxipropyl Thiosulfate, Silica, Polisorbate 20, Triethanolamine, Methylchloroiazolinone, Methyliszthiazolinone, Phytic Acid, FD&C Yellow#5, FD&C Blue#1.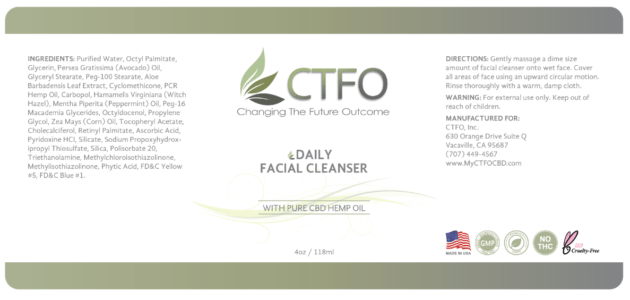 How To Use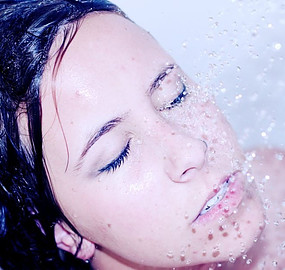 Using this product is really simple, definitely not 'brain surgery' at all. You use it in the morning and before you go to bed at night.
You do not need much to start with – about a dime size. First, wash your face with water and make sure that your face is wet. Then simply massage the cleanser into your skin using your fingertips in an upward motion.
Once you are finished, you can rinse off the product using a soft cloth to help remove any dead cells/skin as well. Pat dry and continue with the rest of your beauty routine.
You can even apply the CTFO Overnight Rejuvenator if you like. To keep your face nice and moisturized as well.
The Benefits
Why bother to cleanse your face, you may ask, well…there are a few obvious reasons:
Sloughing off dead cells/skin
Removing excess body oils
Getting rid of dirt from just living in our environment
Allowing new skin to shine through
Just simply refreshing one's self
And I am sure you get the drift!
This CTFO Facial Cleanser Will:
Leave your skin feeling refreshed
Hydrated
Nourished
Cleansed
And who could ask for more when it comes to basic skin care? I think this is a good start for any beauty routine. After all, you will need a 'clean slate' to start making your skin beautiful.
In addition to which, this product comes with a 60-day refund policy guarantee. To me, this speaks of the confidence of the manufacturer in its brand and efficacy.

Where To Get It
You may purchase CTFO Daily Facial Cleanser online from the CTFO website HERE. You can also see a catalog of their other products HERE.
My Final Thoughts On CTFO Daily Facial Cleanser Review 2018
I think we all strive to do the best for our skin. It is the largest organ on the human body. Our face is usually the first thing that another human will see. We all want to have great skin, and this starts with a basic skin care routine.
Cleansing is vital to preserving our skin's health – on any part of our body. Let's keep our faces looking great, start cleansing it today and be more mindful of cleanliness. It will determine the 'age factor' of our skin.
Here's hoping that this CTFO Daily Facial Cleanser Review 2018 will help point you in the right direction of healthy skin.
All the best.
I started using CTFO products as a customer and then decided to become an associate. The quality of the products and the structure of the company's associate program have clinched the deal for me. You can read more HERE and see if this business opportunity could be something for you, or if being a customer is all you would rather be, then CLICK HERE.
You can contact me HERE and I would be more than happy to get you started in the right direction.

Images courtesy of Pixabay and CTFO.