CTFO's Weight Loss Oral Spray Review 2018
Have you tried or even heard of CTFO'S Weight Loss Oral Spray? Well, if you have not, let me introduce you. I recently heard about CTFO and its products a few weeks ago and decided to get 'close and personal'. I went out and ordered the weight loss oral sprayer and decided to see what all the hype was about. In doing so, here is my CTFO's Weight Loss Oral Spray Review 2018.
It WORKS!

Introduction
Let me tell you a little about the manufacturing company CTFO. Its main mission is to provide health products to its customers for health and relief of their health issues. Here is their mission statement to get an idea of their company values.
CTFO Company Mission Statement:
'Our Founders care and want to positively impact every aspect of your life:
In Business: By offering an affordable, accessible opportunity with a generous pay plan and a simple road map for success
In Health: By promoting a healthy lifestyle; incorporating proper nutrition and quality products
In Serving Others: By creating a culture of organizational, personal and community development
In Quality: By providing products, customer service and associate support that actually work!
In Integrity: By operating in an honest and trustworthy manner to our employees, associates and customers
In Generosity: By giving back a portion of our profits to those in need
In Demonstrating the Good News: By following God's word, we operate in a life-giving and abundant environment, both corporately and individually.'
Benefits Of The Product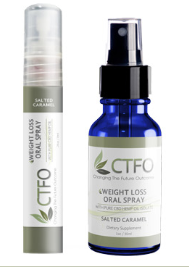 As with everything in life, there will be pros and cons. The main benefits of this weight loss oral spray:
to help you in your quest to shed excess weight and also maintain that balance between mind, spirit, and body (weight)
promotes fat loss with muscle-sparing results
nutrients absorb quickly into the blood stream and therefore works quicker – a 90% more effective way to treat your body
controls your appetite and thus reduce the urge to binge
helps your metabolism by increasing it and giving more energy
gives you a feeling of fullness
contains 60mg of the purest CBD Oil to promote health and natural healing
scientifically tested results
contains HCA – hydroxcitric acid – active ingredient in Garcinia Cambogia extract which helps in weight loss
How To Use The Product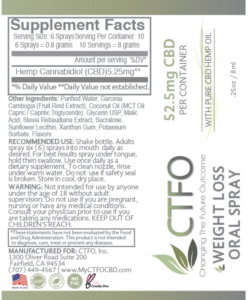 The best way to use the product is outlined on the label. Of course, it is always a good idea to read the label in its entirety to make sure that the efficacy of the product can be achieved.
The recommended use is to shake the bottle before spraying 6 sprays into the mouth under the tongue. You need to hold the liquid there for a few seconds before you swallow. The daily dietary supplement is to be used once only. You choose when.
The weight loss spray comes in a salted caramel flavor.
Product Description And Features
In this section, we will take a look at the active ingredients in this weight loss spray. It contains 60 mg CBD Oil. It is 8 grams (small vial) and comes in a cute little spray vial.
According to the label, the ingredients are:
Purified Water, Garcinia Gambogia (fruit rind extract), Coconut Oil (MCT Oil Capric/Caprilic Tryglceride), Glycerine USP, Malic Acid, Stevia Rebaudiana Extract, Sucralose, Sunflower Lecithin, Xanthan Gum, Potassium Sorbate, Flavors.
Who Is The Product For
This weight loss spray is good for anyone who wants to take care of their health. In my opinion, it is great as a preventative measure as well. Why wait till you are in a 'fat/overweight' place before you take positive action for your health.
Like all supplements and medications, keep out of the reach of babies and children.
What I Like About The Product
Having used this spray, I can tell you what I like about it:
I love the smell – it has a nice caramel smell
I love the taste – it has a tart-like, not sour, but somewhat tasty. I would not say sweet though
it absorbs quickly into your cells without leaving an after-taste
it works
comes with a 60-day refund policy that sure gives you time to see the results
What I Don't Like About The Product
Well, so far, so good. I have not found any cons about the product. I am still using it and like how it helps me to 'curb' my appetite. In my opinion:
the container size is small, however, there is also a bigger bottle which I will buy once the one I am using in finished. I think it will definitely be value for money.
the price might be a little high for your budget, but for what it will do for your appetite and then your body, the long-term effects is what matters.
Where To Find CTFO's Weight Loss Oral Spray
You can find this weight loss spray HERE as well as other great products using Hemp or CBD Oil as a base. The suggested retail price is USD$85.97  but YOUR CTFO PRICE USD$59.97 for the 30ml bottle and the suggested retail price is USD$40.97 but YOUR CTFO PRICE USD$24.97 for the little spray bottle.

My Final Thoughts On CTFO's Weight Loss Oral Spray Review 2018
Well, all I can say is based on my usage so far. It has been a week and I like the product. So far, I have lost 1.5 kgs and I am smiling. I suspect in a few weeks of consistent use, I will see the difference in my weight loss goal.
As a suggestion, I think it is good that you try this weight loss oral spray based on the natural ingredients and what they do for the health of your body. Looking forward to your feedback. All the best.
Images courtesy of Pixabay and CTFO.
---
I started using CTFO products as a customer and then decided to become an associate. The quality of the products and the structure of the company's associate program have clinched the deal for me. You can read more HERE and see if this business opportunity could be something for you, or if being a customer is all you would rather be, then CLICK HERE.
You can contact me HERE and I would be more than happy to get you started in the right direction.