CTFO Isolate CBD Oil Drops Review 2018
Have you tried the CTFO Isolate CBD Oil Drops ? Then, I think this is as good a time as ever to do your research and to give it a shot. In this CTFO Isolate CBD Oil Drops Review 2018, we will be looking at the benefits, dosage, and potency. CBD oil can be used for a lot of health issues, and with some amazing results.
Of course, not all oils are created equally, not just CBD Oil but other natural oils as well. Sometimes, there are simple oil additives even though the label clearly says 100% natural. You need to be aware and make a conscious habit to check the labels and the nutritional value.
Of course, not all oils are created equally, not just CBD Oil but other natural oils as well.
Let's take a closer look at CDB Oil
CTFO Isolate CBD Oil Drops

The main features of this Isolate CBD Oil:
This is 99% pure CBD isolate oil
It contains Zero THC
No known side-effects
It comes in 2 sizes: 500mg and 1500mg
The Product Label: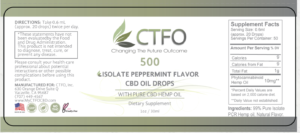 Benefits Associated With This CDB Oil Drops
The main benefits from using this oil:
Reduce vomiting and nausea
Suppress muscle spasms
Reduce seizures and convulsions
Promotes relaxation and overall health
Relieves anxiety
Reduce cravings
Helps in digestion
Supports optimal immune function
Helps in the regeneration of healthy cells
Contains no THC which allows consumption of a higher concentration to help with discomfort
How To Take CBD Oil Drops
Now, these bottles are high-potency Pure Hemp oil and are sometimes referred to as tinctures. You can take ½ a dropper of the oil and putting it under your tongue. The suggested frequency is twice daily – morning and evening before going to bed.
You should be able to get 50 servings from the bottle.
The Dosage And Potency
It comes in 4 potencies: 300mg, 500mg, 750mg and 1500mg. The prescribed dosage (1/2 dropper) is the same no matter which potency being used.
Here is a breakdown of what each potency can do: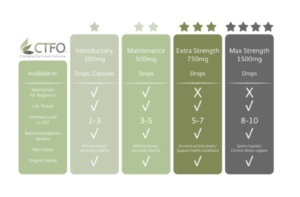 300mg Drops
This is for maintaining optimal health
500mg Drops
This is for a slightly higher-level of oil to stimulate optimal health.
750mg Drops
This is for an even higher-level of CBD Oil to maintain a healthy immune function.
1500 mg Drops
This the highest level of CBD oil to support the body's antiviral and natural healing capabilities.
All the drops are:
naturally flavored with peppermint
pesticide-free
non-gmo
co2 extracted Hemp Oil
100% organic
Cruelty-free
Manufactured in the USA in a registered GMO facility
I think this information should provide you with the answers you seek about the CBD Oil Drops made by the CTFO company.
The company is so confident of its products that it offers a 60-day refund guarantee on all its products. This speaks volumes.
Lab Results Of 500mg Isolate CBD Oil Drops
Lab Results Explained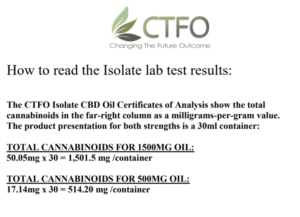 My Final Thoughts On CTFO Isolate CBD Oil Drops Review 2018
Like everything that you choose to take as a natural healing alternative as well as chemically enhanced medication, please do your due diligence and always get medical counsel before you start.
This article, CTFO Isolate CBD Oil Drops Review 2018, is to inform and educate you about the great products that
CTFO
makes and to broadcast the world of healthy options that can make a difference in anyone's health situation – either improve or maintain one's health.
I hope I accomplished this with this article review. All the best and good health.
Images courtesy of Pixabay and CTFO.
---
I started using CTFO products as a customer and then decided to become an associate. The quality of the products and the structure of the company's associate program have cinched the deal for me. You can read more HERE and see if this business opportunity could be something for you, or if being a customer is all you would rather be, then CLICK HERE.
You can contact me HERE and I would be more than happy to get you started in the right direction.