CTFO CBD Facial Toner Review 2018
This article is about CTFO CBD Facial Toner and will look at the main features, the ingredients, the benefits, and where you can purchase this wonderful product to pamper your skin.

What Is A Facial Toner
I will be honest with you, there are times I choose to skip this step in my beauty routine, especially when I am a bit tired. However, it is a good step for your skin.
According to Wikipedia, a toner 'refers to a lotion or wash designed to cleanse the skin and shrink the appearance of pores, usually used on the face.' [1]
Toners can be applied:
With a damp cotton swab/ball – the more common way
Applying it as a spritz
Applying it on a piece of gauze and then leaving it on the face for a few minutes
So, in layman's terms, a toner is a liquid product that is applied to the facial skin usually using a cotton swab. It is a refreshing tonic for the skin. It can also 'double' as a moisturizer and then this could be the final step of your beauty routine.
CTFO CBD Facial Toner


The main component in this facial toner which sets it apart from the rest is the fact that it contains 100% pure Hemp Oil Isolate. The oil will deliver nourishing nutrients to your skin even in a simple solution as a toner.
The main features:
Leaves your skin feeling refreshed
Hydrating
Nourishing
Cleansing
List Of Ingredients
The most important part of any product is its formula. This, more often than not, determines the efficacy of the products. Let's take a closer look at what goes in the formula.
Ingredients:
Purified Water, Hamamelis Virginiana (Witch Hazel), Glycerin, Aloe Barbadensis Leaf Extract, PCR Hemp Oil, Mentha Piperita (peppermint) Oil, Peg-16 Macademia Glycerides, Octyldodecanol, Propylene Glycol, Zea Mays (Corn) Oil, Tocopheryl Acetate, Cholecalciferol, Retinyl Palmitate, Ascorbic Acid, Pyridoxine HCI, Silicate, Sodium Propoxyhydroxipropyl Thiosulfate, Silica, Polysorbate 20, Methylcloroisothiazolinone, Methylisothiazolinone, Phytic Acid, FD&C Yellow #5, FD&C Blue #1.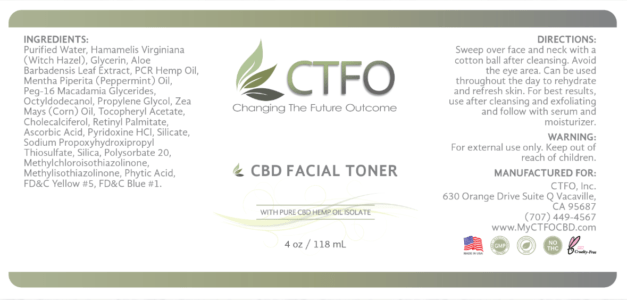 How To Use
Using a toner is best recommended after a thorough cleansing of the skin. You can read my article on the CTFO Daily Facial Cleanser HERE.
After cleansing, simply use a cotton swab and soak it with the toner, then go over the entire facial skin area, being careful around the eye area. Do not forget to tone your neck skin as well. You can use the toner throughout the day as a refresher and also to hydrate your skin.
Follow this step with a skin serum or a moisturizer to further nourish the skin and prepare it for any further steps in your beauty routine.
The Benefits
Naturally, in using any product, it is always a good thing to know what you intend to accomplish by using it on a consistent basis. Here are a few:
Leaves your skin feeling clean and refreshed
Nourishes the skin with moisturizing nutrients
Is formulated with pure Hemp Oil Isolate 20mg
Removes excess dirt and unclogs pores
Hydrates your skin
The formula has many natural botanical extracts which nourishes and moisturizes the skin
Comes with a 60-day refund policy guarantee – which says a lot about the confidence of the company in its product and the fairness of time to use the product
Just knowing about the healing properties associated with pure Hemp Oil, is a good enough reason (in my opinion) to use this product.

Where To Get It
You may purchase CTFO Facial Toner online from the CTFO website HERE. You can also see a list of their other products HERE.
My Final Thoughts On CTFO CBD Facial Toner Review 2018
The most important part of your facial beauty routine should be the toner. It helps to close your pores and prepare your skin for the next step of your beauty ritual.
In addition to tightening or losing the pores, it simply leaves the face refreshed especially if you choose this step to be your last step before you go to sleep. It is always a good step to follow up with a moisturizer after the toner, you just to continue nourishing the skin a little more. You might want to check out the CTFO Overnight Rejuvenator as well.
Images courtesy of Pixabay and CTFO.
REFERENCES:
[1] Wikipedia
---
I started using CTFO products as a customer and then decided to become an associate. The quality of the products and the structure of the company's associate program have clinched the deal for me. You can read more HERE and see if this business opportunity could be something for you, or if being a customer is all you would rather be, then CLICK HERE.
You can contact me HERE and I would be more than happy to get you started in the right direction.