My Daily Choice Peak Spray Review
Have you ever felt like you could use a pick-me-upper? Well, you need to check out My Daily Choice Peak Spray. It is an energy boost in a bottle and loaded with lots of good stuff and it does not taste too bad – if that happens to one of your criteria.
This spray is a natural #nutritional_supplemental_spray which can be used to help performance – peak performance, if you will.
This nutritional spray is made by #My_Daily_Choice along with a few other wonderful sprays:
I will be doing reviews on them all and I will link to the articles in future updates. Now let's take a closer look at this Peak spray.
What Is My Daily Choice Peak Spray?
This spray is a natural nutritional supplemental spray which can be used to help performance – peak performance, if you will.  Let's look more closely at some of its key ingredients: deer antler velvet.
Key Ingredient: Deer Antler Velvet
According to WebMD, deer antler velvet 'is used to boost strength and endurance, improve the way the immune system works, counter the effects of stress, and promote rapid recovery from illness. It is also used at the onset of winter to ward off infections. Deer velvet covers the growing bone and cartilage that develops into deer antlers. People use deer velvet as medicine for a wide range of health problems.'[1]
So, basically, it is the covering of the growing deer antler. It seems to be a good source of natural health components like 'glucosamine, chondroitin, and collagen. The body uses glucosamine to manufacture glycosaminoglycans that are found in cartilage tissue.'[2]
Why Use A Spray?
Well, they say a picture says a thousand words so have a look at the image below.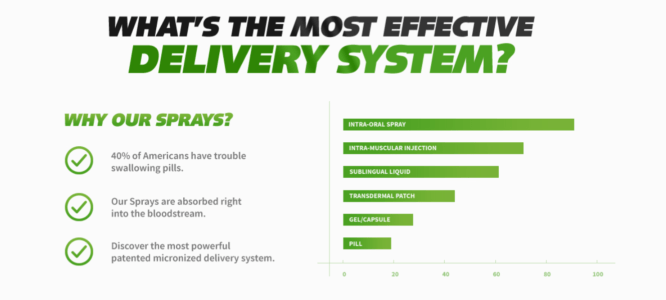 I have been using this Peak spray and I love it. The taste is not bad and it is certainly giving me that extra boost of energy and stamina that anyone can use. Because of its natural ingredients, I have had no side effects and I take it as directed – three times a day or as needed.
I simply spray 6 squirts under my tongue, hold the liquid there for a few seconds before swallowing completely.
Deer antler velvet has been used in traditional Chinese medicine for over 2,000 years. It is 100% natural and will help to improve your well-being and health. Since 1930, there have been hundreds of medical publications which encourage deer antler velvet as a daily supplement.
The Benefits
Using My Daily Choice Peak Spray is expected to:
Help improve your general health
Boost your immune system
Support anti-aging
A great performance enhancer
A lot of sports professionals have used this spray and they talk about the supplemental energy that it gives them while doing their sports activities. They often talk about the agility that it helps when recovering from injuries as well.
I like My Daily Choice Peak Spray very much. It really gives me 'stamina' – for want of a better word, and a lot of drive.
Ingredients
Botanical extracts – deer antler velvet, noni, goji berry, maqui berry, acai, raspberry ketones, resveratrol, mangosteen, yerba mate, purified water, citric acid, malic acid, potassium sorbate, glycerine, stevia leaf, natural flavor.
Where You Can Purchase My Daily Choice Peak Spray
You can purchase My Daily Choice sprays by accessing this LINK.
ALL MyDailyChoice products come with a 60-day refund guarantee – another great reason to check it out!
Product Disclaimer: These statements have not been evaluated by the Food and Drug Administration.
This product is not intended to treat, diagnose, cure, or prevent any disease.
Business Opportunity
If you try My Daily Choice Peak Spray and find that you like it, then you might also be interested in the business opportunity that the company offers to any customer. You can take a FREE Tour of the company's goals and products by clicking on the link below:

REFERENCES:
[1] https://www.webmd.com/vitamins/ai/ingredientmono-808/deer-velvet
[2] https://www.bodybuilding.com/content/health-facts-deer-antler-velvet.html
Images courtesy of Pixabay.
---
You can put your thoughts on paper but learning how to create your own blog is something different. If you have the right training it is not that difficult.
When you learn how to create your own blog you get to choose the things that you write about. You can also use the blog to make extra income. Here is where I learned how to create my own blog and connect with people who helped me along the way.
Click Here and see what it is all about!