CTFO Pure Hemp CBD Anti-Stress Relaxation Oral Spray Review 2018
This article is about CTFO Pure Hemp CBD Anti-Stress Relaxation Oral Spray and will look at the main features, the ingredients, the benefits, and where you can purchase this wonderful product to pamper your inner child.
#Sleep and #relaxation are key elements to great #health.

What Is An Anti-Stress Relaxation Oral Spray
In as simple words as I can say, this is an oral solution to a restless situation. You administer it whenever you have that feeling of stress and anxiety. It will provide calm and peace of mind and set your focus on something more comforting.
CTFO Pure Hemp CBD Anti-Stress Relaxation Oral Spray
This is a liquid which is delivered in a spray form. It comes in a mixed berry flavor.
The Main Features:
Apart from the obvious goodness that you get from anything associated with pure CBD Hemp Oil, here are the main features of this oral anti-stress relaxation spray:
Helps protect
Treats
Formulated with 14mg of pure CBD Oil
List Of Ingredients
Being aware of what goes into a product is always a good idea and in your best interest. Let's look at the ingredients used in this product formula.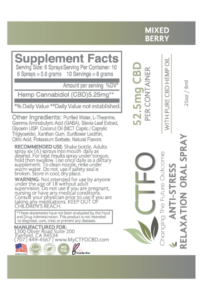 Ingredients:
Purified Water, L-Theanine, Gamma Aminobutyric Acid (GABA), Stevia Leaf Extract, Glycerin USP, Coconut Oil (MCT Capric/Caprylic Triglyceride), Xanthan Gum, Sunflower Lecithin, Citric Acid, Potassium Sorbate, Natural Flavors.
How To Use
It is quite easy to use. All you need to do is to spray 6-drops of the spray under the tongue. Allow it to stay there for a few seconds before swallowing it. This is the quickest way to get the supplement into your blood stream and provide quick results. You can use it once daily as a dietary supplement.
The Benefits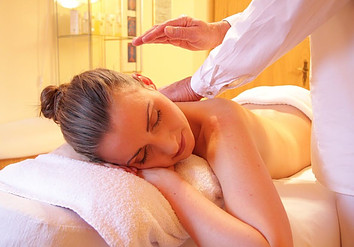 Everyone deserves a good night's rest. Sleep is the best way that our bodies can replenish and regenerate new cells. Everyone needs sleep. Every one knows how groggy one can become when there is not enough sleep and when there is no calmness to it.
Here are a few benefits associated with using this oral anti-stress relaxation spray:
Helps protect against negative effects on your immune, metabolic, cardiovascular, and neurobiological functions.
Treats people struggling with chronic stress and anxiety by regulating the release of glucocorticoid.
Calms the body and helps to produce relaxation.
Has a blend of #CBD Oil and natural ingredients to promote health and relief.
Scientifically tested.
Comes with a 60-day refund policy. You have nothing to lose by trying this oral spray. To me, this speaks of the confidence of the manufacturer in its brand and efficacy.

Where To Get It
You may purchase CTFO Pure Hemp CBD Anti-Stress Relaxation Oral Spray online from the CTFO website HERE. You can also see a list of their other products HERE.
My Final Thoughts On CTFO Pure Hemp CBD Anti-Stress Relaxation Oral Spray
In our world today, there are so many triggers which can lead to stress, fatigue, and plain 'ole tiredness. It is not easy 'taking it easy'. However, thankfully, there are ways to help 'smooth the way'.
You can use this oral spray as an easier remedy to alleviate the stress triggers and help you to have a calm, restful time of sleep. You can even supplement this with basic meditative steps like stomach breathing or just simple plain deep-breaths to help balance the oxygen level in your blood and further enhance your sleep.
This oral spray is well worth a try. I would love to hear your feedback.
All the best.
Images courtesy of Pixabay and CTFO.
---
I started using CTFO products as a customer and then decided to become an associate. The quality of the products and the structure of the company's associate program have cinched the deal for me. You can read more HERE and see if this business opportunity could be something for you, or if being a customer is all you would rather be, then CLICK HERE.
You can contact me HERE and I would be more than happy to get you started in the right direction.