The Amazing CTFO Gala Event 2018

I had the pleasure of attending The CTFO Gala Event 2018 and thoroughly enjoyed the experience. In this article, I will go through the main 'takeaways' in my opinion and I invite you do so with me. And if you feel inclined, JOIN ME along with CTFO as they Change The Future Outcome of health and wealth and how people see CBD Oil.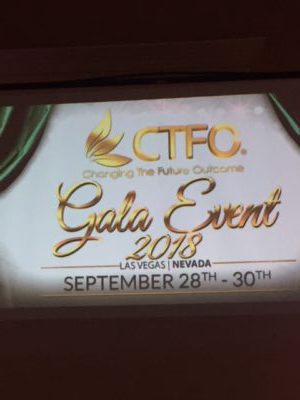 What Is CTFO
CTFO is the acronym for 'Changing The Future Outcome' and this is the mission statement for this amazing people oriented company.

This company produces and markets the purest CBD Oil and products currently on the market. It is not only the purest form of CBD Oil but also the wonderful ethics of this company. Take a look at their mission statement that the company 'lives by'.
MISSION STATEMENT:
Our Vision:
CTFO provides tools to empower people in business, health and serving others; demonstrating the Good News with quality, integrity and generosity.
Our Mission:
Our Founders care and want to positively impact every aspect of your life: 
In Business: By offering an affordable, accessible opportunity with a generous pay plan and a simple road map for success 
In Health: By promoting a healthy lifestyle; incorporating proper nutrition and quality products 
In Serving Others: By creating a culture of organizational, personal and community development 
In Quality: By providing products, customer service and associate support that actually work! 
In Integrity: By operating in an honest and trustworthy manner to our employees, associates and customers 
In Generosity: By giving back a portion of our profits to those in need 
In Demonstrating the Good News: By following God's word, we operate in a life-giving and abundant environment, both corporately and individually
Our Core Values:
To provide expanding entrepreneurial opportunity
To provide quality consumable products
We are a generous company – generous with charities, employees and associates
We desire prosperity for all those involved with CTFO at all levels
CTFO is a company with high integrity (as a corporate entity and as individuals) 
To share the Good News
God is at the center of all we do 
The Gala Event
The gala event was the first of many to come for this organization and was very exciting for all those attending, including myself. My purpose of attending was to be among like-minded people who had 'taken the plunge' to make their future better – in health and wealth.
At #CTFO, you can have better #health and #wealth while you are at it!
It was a beautiful turn out of over 600 people and I am being modest in my assumption of the number of people attending…there was probably more.
I was honored to have met the founder, Steven Finger – a sweet, soft-spoken, and seemingly kind-hearted man. A demonstration of his kindness, a simple gesture which I found really nice was how he treated my fellow team member who came in a wheelchair as well as myself.
He escorted us both to the outside of the roped registration area and then went to collect our conference badges for us. And then he escorted us inside the meeting area to find our seats.
I found this a simple yet endearing gesture on his part. It shows without a doubt that he is in the people business – no matter where on the ladder or totem pole that he 'stood'. He is an epitome of humility and love for others.
I also met Scott Cook, Michael Swilling, and rubbed shoulders with other notable people in the organization as well as other team members who shared the same vision – helping others to better health and wealth.
Medical Proof About CBD

The opening speaker was Dr. Robban Sica, doctor in integrated medicine. This entails using holistic medicine, natural alternatives, and such the like for:
Chronic health
Preventative medicine
She expounded on a lot of things. One of them was the misleading association between 'pot' and cannabinoids. Hemp oil has been used for more than 6,000 yrs in a medicinal capacity. The more common prescription being to treat neuropathic pain.
What people fail to understand is that the 'job' of doctors is primarily to set up the system but the body heals itself – ECS – endo-cannabinoid system. And this system exists in humans and animals – all life forms.
Medications tend to weigh down the body's balance while CBD Oil dulls the pain by soothing the pain receptors. There are naturally occurring regulators – cannabinoid in ECS – neurotransmitter system is calmed by CBD Hemp Oil.
There are CB1 and CB2 in CBD Oil. There are 2-AG and Anandamide (which the body can produce) which are present in the endocannabinoid receptors and enzymes.
Anandamide (the Bliss molecule) is a powerful enzyme which:
Inhibits breast cancer growth cells
Can be found in a mother's milk
Is also produced during meditation/yoga
The functions of 2-AG:
Is to regulate the immune system
Suppress inflammation
Neuro-protective
Is released when tissues are injured
Regulates energy balance
Suppresses seizures
Regulates the vascular system
Relaxes blood vessels/lowers blood pressure
Regulates communication from gut flora to the brain
Reduces systemic inflammation
There have been over 23,000 clinical studies. There are also isolated studies for the specific use of CBD. She also talked about the choosing of a Hemp Oil product. The best points to look for:
Organic is best
As a plant, it absorbs toxins from the soil
If you check the certificate analysis, ensure that pesticides are not detected
Toxic solvents should not be detected after the extraction from the plant
Micro toxins (which could be mold after the processing) should also be not detected
You need to have Full Spectrum Hemp Oil and this is what CTFO produces and uses in the manufacture of their product. And with their 60-day guarantee, the company has the lowest return rate in 30-yrs of business.
Technological Advancements In The CTFO Back Office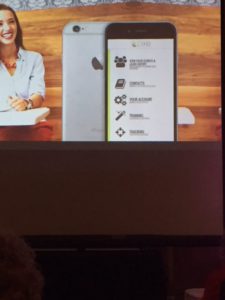 The next speaker was Ben Dixon, CEO of Naxum. He spoke about the new strides that CTFO as a company was making. He is busy creating a business using the track that others are familiar with – the internet and the electronic platform to share the word.
One way that he and his team were ensuring this transition was:
by improving the back office
giving the team the 'stuff' to share
developing DFY (done-for-you) social media content to share
The new and improved back office will be rolled out in the coming few weeks. I am excited.
Testimonials

Chelsie Hill – Roulettes Dance Team Founder
We were blessed by her and to see through pictures how a young life full of dreams, dance and laughter was changed by a drunken driver which left her paralyzed waist down. She did not remain 'bound' by boundaries created by others or herself and rose beyond her circumstances to continue dancing – the love of her life.
She founded the Roulettes and in a short time, others like her, were able to live their dream and love for dance from a different perspective. Her motto – boundlessness is a choice. She had 3 thoughts to share:
understand that your 'something' does not limit you
list things that you love about life and yourself, as well as what you want for your life
find others that acknowledge their 'something' and go with it
A few questions to pique your thought process:
what boundaries do you have
or what boundaries have others placed around you
and, what is your choice
Remember, 'excuses are like noses, everyone has one'!
Karen Apy and Michael Venezia
This story was another tear-jerker. Karen was diagnosed 3-yrs ago with a rare form of cancer and has defeated the odds 3-yrs later. Karen is a nurse and is very aware of medication and their multitude of applications. She has had chemotherapy, radiation, everything that it takes to rid the body of cancer, in addition to a whole host of pills.
Somewhere along the way, she decided to use CBD Oil as a form of healing natural alternative and this was the turning point in her life. Her life literally took a 360-degree turn to better health and she has continued to improve. Karen was blessed to have her husband, Michael Venezia, by her side cheering her on and being her tower of strength and support along the way.
Karen will also be giving a talk/seminar in two weeks to talk about the benefits of CBD Oil and one can see how she will be a walking example of its healing power. Now, Karen does not advocate that anyone 'ditch the prescribed meds' like she did, but she does suggest that you give natural alternative medicines beginning with CBD Oil (the type produced by CTFO, the purest of its kind) a try.
Launching Of New Products
In just a week or so, CTFO will be launching some new products:
CTFO gear – a collection of clothing (tee-shirts, trainers, caps) to begin with
Beauty Care products
Hair Care
And the patented innovated 10XPURE CBD Oxygenated Oil – the ONLY product of its kind.
I am excited to see how CTFO is developing and producing more products to help people and make their health better.
We also had the overview of the patented 10xPURE Oxygenated CBD Oil as explained by Molecular Biologist, Frances Reynolds. She could not stop raving about the power of this latest product.
The Why And The How To

The last guest speaker was Doug Firebaugh, Training Intenational CEO. He provided the room with fire and robust interaction as he spoke about the 'why and how to' as you promote your CTFO business. He gave some suggestions. The more questions you ask, the more answers you will get is his philosophy. Questions and suggestions like:
What's your take on CBD Oil?
Stress the timing and the power of CBD Oil
Stress the stories of what it has done for people – get a 'brag-book' pf testimonials
Stress the fact that it is the NEW gold rush in health
Remember, first people FEEL, then they HEAR
Make them FEEL your words, not just hear them
He went on further to highlight 3 Power Questions that you can use in your approach to getting the word 'out there' about CBD Oil.
Power Questions
1/Are you ready for this season of gold that you are looking at?
2/Are you willing to do what others would laugh at?
3/Are you ready to ignite the fuse of the greatest season of your life?
Doug did a great job of pumping up the audience and reminding them that CBD Oil and this company, CTFO was a great place to be and a great product – especially when both do the same thing – change lives.
Yes, Changing The Future Outcome indeed!
My Final Thoughts On The CTFO Gala Event 2018
Well, it was a novel experience for me, being able to attend the CTFO Gala Event 2018. It injected me with resolve and desire to help others find better health and also improve their wealth. It will take time, but the timing is now, to be on your way to better health and better wealth, will you JOIN ME on this journey?
Contact me today so we can get your road to health and wealth a start in the right direction.
Images of Pixabay and CTFO.
---
I started using CTFO products as a customer and then decided to become an associate. The quality of the products and the structure of the company's associate program have clinched the deal for me. You can read more HERE and see if this business opportunity could be something for you, or HERE if being a customer is all you would rather be.
You can contact me HERE and I would be more than happy to get you started in the right direction.